When looking to budget for a two person flat in Auckland, a major consideration in the bills section was power. Asking friends and looking around the internet only gave some out some rough numbers, so to the me of 2017 and to anyone else who is interested, here's my 2017 to 2019 of flatting experience in electricity costs.
The Short Story
Unsurprisingly the kWh and dollar graphs look pretty similar across all three years.
| Season | Average kWh | Average $NZD |
| --- | --- | --- |
| Spring | 485 kWh | $140 |
| Summer | 332 kWh | $104 |
| Autumn | 446 kWh | $133 |
| Winter | 613 kWh | $179 |
| All | 465 kWh | $138 |
The Longer Story
This is a story of two 55 square metre flats. The first lived in for two years and the second for a year with a slight period of paying for power in both places. The electricity provider for the whole period was Mercury Energy which gave free power days, price increases, prompt payment discounts and eventually a slightly cheaper contract. All values in this post are taken from the amount charged after discounts. Mercury was chosen as it touts electricity generation from 100% renewables.
Flat 1
This flat had an external electric hot water cylinder and a gas stove.
Looking at winter 2017 we can see two major things:
A much flatter power usage compared to the next two winters - See the June 2018 peak
A sharp drop in power usage caused by a holiday
The first point was to save power that winter by wrapping up warmer and not using heating as much. Coincidentally it was also the year I used up all my sick leave - a fair life lesson. With second point is simply time away from home on holiday with the hot water cylinder turned off.
Flat 2
A regular indoor electric hot water cylinder and an electric stove describes the main differences from the previous flat.
Nothing too exciting, slightly more expensive compared to Flat 1.
Comparing Years
Overall the three years roughly align except for the "wrap up warm and not use heating" winter of 2017 and the August holiday in the same year. Though there is also the November 2019 dip that I believe comes from the sun coming right into Flat 2 for a good portion of the afternoon.
Looking at the usage and cost per year:
| Year | kWh | $NZD |
| --- | --- | --- |
| 2017 | 4062 kWh | $1237 |
| 2018 | 6002 kWh | $1794 |
| 2019 | 7166 kWh | $2084 |
How a Bill is Calculated
My power bill is calculated by:
(kWh * kWh cost) + (billing days * daily fixed charge) + (kWh * Electricity Levy) + GST
Then there can be discounts. Mercury, among many others, provide a prompt payment discount and I also have an extra discount by being on contract.
As an example, my bill for January 2020 (in Flat 2) looks like: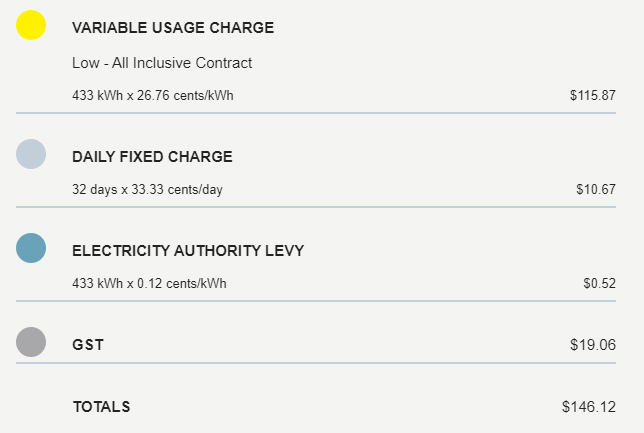 Then adding in discounts: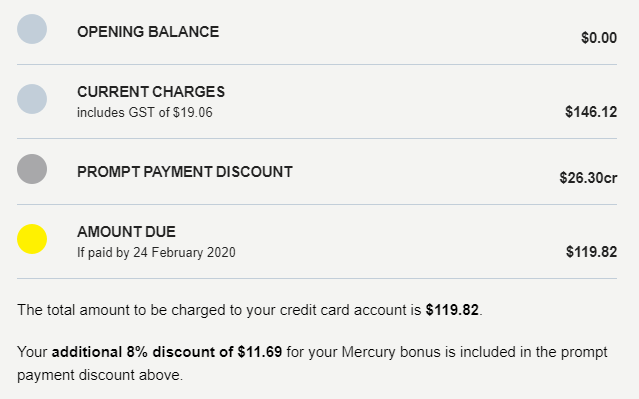 I hope that helps anyone else trying to budget, move out of home, move to this size flat or any other reason.
I did this for you, 2017 me.